Welcome!
Welcome to Beauchemin Preservation Farm,
located on a 250 year old farmstead in Maine.
September Means It's Time to Pick Your Own Organic Grapes
Our Valient seeded blue grapes will be ready to pick next week starting September 14th. This variety of grapes is sweeter and smaller than seeded Concords. Interested pickers can contact us to get more information via e-mail, JoAnn's cell phone (207-691-8164) or Wayne's cell phone (207-596-1161). Due to Covid precautions we appreciate a call before heading to the farm so we can insure social distancing and be certain we have the grapes you wish to pick.

You can also contact us to check in on ripening of our seeded purple Concords, Bluebells and seeded table grapes that ripen approximately at the same time.

The cost is $15 per gallon. You can pick more or less and and pro-rate the price. One gallon of MOFGA certified organic grapes roughly translates to $2 per pound which is less than supermarket pricing. Pickers should bring their own containers and scissors.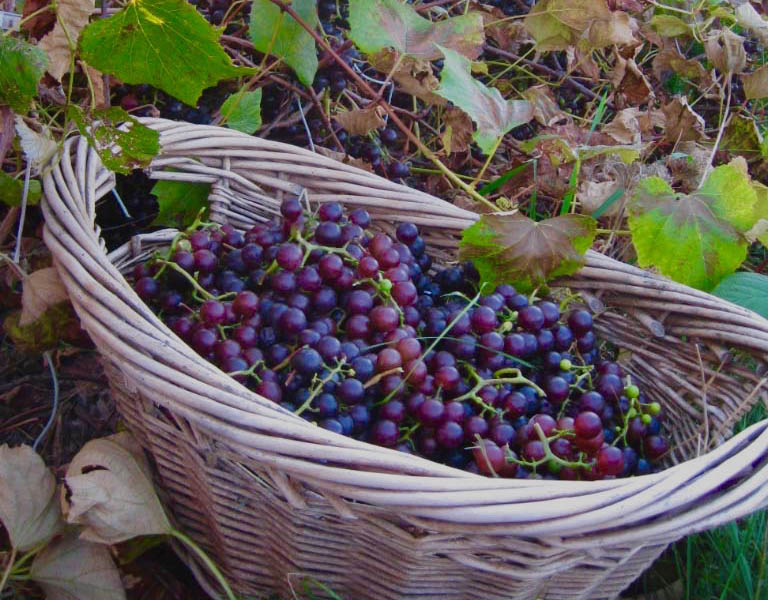 Preserving Endangered Breeds
We're JoAnn and Wayne Myers, and we raise several endangered breeds of farm animals and poultry. We raise and sell MOFGA certified organic fruits including grapes, "you-pick" berries, cantaloupe as well as certified organic ducklings. We welcome visitors to our farm by appointment.
We also raise three endangered breeds of sheep– California variegated, British soay and Leicester longwool, and sell their wool and breeding stock.
In addition, we raise and sell pelargoniums. There are 230 pelargonium species noted for their irregular flower shape, abundance of colors, and many hybrid varieties. We raise about 25 varieties, certified organic, including vine, scented, zonal and species pelargonium. We usually have cuttings available throughout the year and plants for sale in summer and fall.

Organic seed for traditional dye plants including woad and madder is available on a limited basis.

We Raise Historic Small Fruit and Nuts, Certified Organic
Our gardens include "U-Pick" raspberries and grapes, and small/ trial plantings of many berries and heritage small fruits. Garden visitors are welcome.
This working farm is an educational resource with many explanatory signs and a self-guided nature trail through woods and fields to Havener Pond.

Why Are We Doing This?
Before the transition from subsistence to commercial farming in the 19th and early 20th century, farm animals and crop plants had evolved to be healthy and productive in particular local climates and situations. Most livestock served multiple purposes. For example, female cattle produced milk and calves. Males provided beef and, as oxen, cleared and plowed the fields. Every region had its own "landrace" cattle adapted to local feed sources, work requirements and living conditions.
As farming shifted from growing things for use by the family (subsistence farming) to growing single products for sale, most of these "landrace" breeds were lost. A versatile, hardy, intelligent animal was less valuable than one which produced large quantities of a single commercial product per unit of time under strictly controlled conditions.
The situation is similar for many of the older varieties of fruits and vegetables. Simultaneous ripening, long shelf life and attractive appearance are of greater commercial significance than flavor or nutrient content.
The Icelandic Goat Project
Goats were brought to Iceland about one thousand years ago and have been genetically isolated since then. Natural selection has produced a breed particularly suited to producing cashmere fiber, milk and meat in a cold wet climate. They became endangered with the decline of subsistence farming. We are working with Icelanders to introduce Icelandic goats into the USA. Learn about the Icelandic Goat Project here.
At Beauchemin Preservation Farm we are working with a few varieties of livestock, poultry, fruits and vegetables to preserve traditional stock, raise awareness their advantages and give visitors a glimpse of some alternative farm practices.
We anticipate sending out a few yearly email updates to advise people of events at the farm, and when it is time for harvest for "pick your own" berries and other produce. By adding your email below and selecting your area (or areas of interest) you'll receive these emails. Note: we use a double opt-in process to be sure that no one is getting unwanted emails. Once you sign up below you'll get a confirming email asking if you wish to belong to our subscriber list. Clicking on that link will officially sign you up!
Contact us
by phone or email. We're located at 1749 Finntown Road, Waldoboro ME 04572.
Need directions?
Go
here
to see a map.