U-Pick Raspberries & Grapes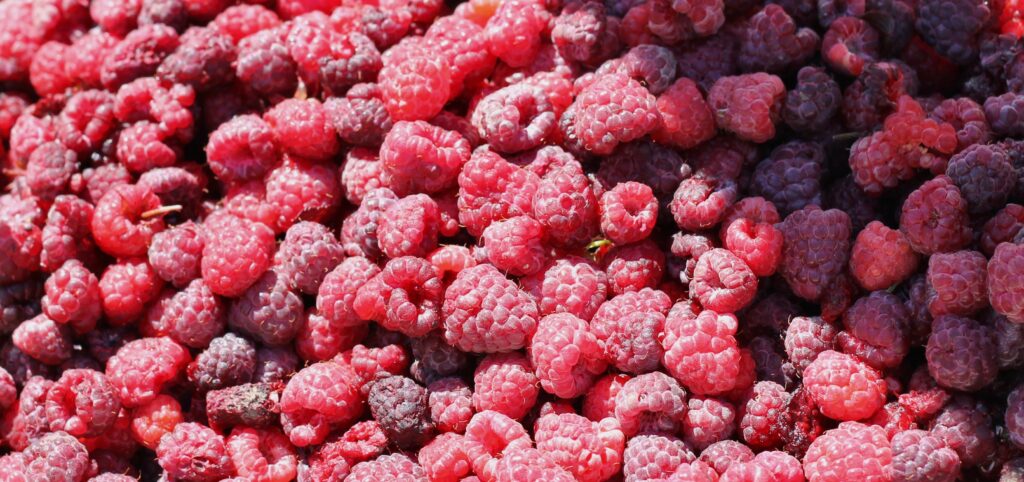 Red, Purple and Black Cap Raspberries, Certified Organic
When we think raspberries, we think red.  We offer pick your own red, purple and black raspberries. The picking season usually begins about July 20. Royalty Purple raspberries do quite well in our berry orchard. They are large, can be picked when still red or later when they are purple and sweeter . We start our own black raspberries from cuttings.  They are so different from red raspberries with a much longer shelf life, really sweet, round rather than conical shaped, and make extraordinary jam. They can be mixed in pies, jams or eaten fresh. Pickers can pick anywhere, anytime and choose what they want. 
Smaller quantities of grapes are available in season: Somersets in early September, purple, seeded Concords in late September. Please call JoAnn at 207-691-8164 to confirm availability.
We focus on heritage varieties in our gardens. Visitors can walk through our berry orchard and take a look at labeled varieties.
Would you like to be notified when it's time to pick berries? Just sign up below and check "berry picking" and you'll get an email to advise you when they are ripe for picking. But you are also welcome to select additional areas of interest too. We only want to send you emails that pertain to your interests. Note: we use a double opt-in process to be sure that no one is getting unwanted emails. Once you sign up below you'll get a confirming email asking if you wish to become a subscriber to our list. Clicking on that link will officially sign you up!